Exercise 3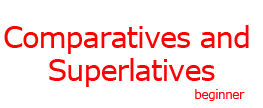 Translate into English the following sentences:
Non ci sono differenze importanti fra i due esercizi. Questo è difficile come quello
Parla meno forte, perfavore. Qualcuno sta già dormendo in questa casa
Tom è una persona deliziosa. E' tanto paziente quanto onesto e comprensivo
Abito qui da più tempo di te, ma ancora non mi sono abituato al clima
Sembri meno felice del solito, è successo qualcosa di grave?
The solution is here.

Leave a Comment
You must be logged to leave a comment