Exercise 1
Published by
The Teacher
il Oct 12, 2010 in
For and Since
|
0 comments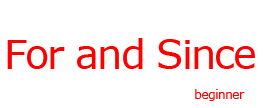 Complete the sentences with For or Since:
He hasn't forgiven her …..  that tragic day
It hasn't snowed ……. two years
We've been here ……. ten minutes
We've been here …… this morning
Mr Smith has played tennis ………. many years
I haven't called her ……… last Monday
The solution is here.

Leave a Comment
You must be logged to leave a comment