Exercise 5
Published by
The Teacher
il Oct 12, 2010 in
For and Since
|
0 comments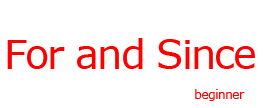 Translate into English the following sentences:
Sono dieci giorni che non lo vedo. Sono preoccupata
Viviamo in questa casa da venti anni
Sono nel suo ufficio dalle 10 ma lui ancora non è arrivato
E' tutto il giorno che sono agitato
Da quanto non ti prendi una giornata libera? Ah, dal secolo scorso
The solution is here.

Leave a Comment
You must be logged to leave a comment