Exercise 1
Published by
The Teacher
il Oct 10, 2010 in
Modal Verbs
|
0 comments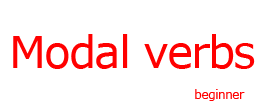 Complete the sentences with CAN or CAN'T:
John …… dance tango very well, he's a perfect dangero
I'm too tired, I ……. play tennis today
…….. you explain me this subject, please?
Mary ……… come with us because she's studying
Look! That's a surprise, Tom ….. act as a true actor
I …… find Emma's telephone number, ….. you help me?
My little brother ……. ride a bike yet, he's only two years old
……. Sara tell us what really happened last night?
My granma ……. cook a great pasta, I love going there for dinner
…… my friends and I go out tonight? Yes, you ……, but don't be late
The solution is here.

Leave a Comment
You must be logged to leave a comment