Exercise 4
Published by
The Teacher
il Oct 10, 2010 in
Simple Present
|
0 comments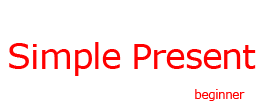 Translate into English the following sentences:
Noi andiamo in piscina tre volte la settimana
Quante volte Sara lavora al pomeriggio? Sara lavora al pomeriggio solo il lunedì e il venerdì
Perché non provi ad aiutare tuo fratello?
Io non voglio venire alla festa di Susy
I miei genitori pensano che io non studi abbastanza e forse hanno ragione
The solution is here.

Leave a Comment
You must be logged to leave a comment